Press releases
TTA Adjusts Dry Bulk Shipping Strategy
Thoresen Thai Agencies PCL ("TTA") today took delivery of the M.V. Thor Fortune, a brand new Supramax class dry bulk vessel. The ship, which was built by Oshima Shipbuilding Co., Ltd., was received by TTA President & CEO, M.L. Chandchutha Chandratat in Oshima, Japan, on behalf of Thor Fortune Shipping Pte. Ltd., a wholly owned subsidiary of TTA. The vessel is the latest addition to TTA's increasingly young and efficient dry bulk shipping fleet. "Taking delivery of the M.V. Thor Fortune reaffirms the Company's long-term strategy to own and operate a modern and competitive dry bulk shipping fleet," said M.L. Chandchutha. "We are actively working to lower the average age of our vessels while increasing efficiency in order to capture as much value as possible in a competitive marketplace.
24 Aug 2011
Scholarship Presentation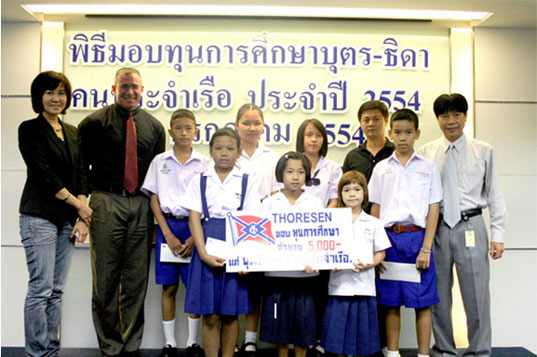 Mr. David Ames (second from left), Senior Vice President - Transport Group, Thoresen Thai Agencies PLC (TTA), recently presented scholarships of Baht 5,000 each to nine children of its crew staff. TTA's Scholarship Program was established in 2009, and aims to continuously provide financial support for Primary and Secondary school education of the company's crew children, who attain an average of 3.0 GPA or above, in order to further encourage intellectual pursuits for the children's future. In addition, eight other scholarships are awarded every year to four educational institutions namely, Kasetsart University, Burabha University, Nakon Si Thammarat Seaboard Industrial College and Merchant Marine Training Centre.
27 Jul 2011
For more Information
Thoresen Co (Bangkok) Ltd
10th floor Orakarn Building
26/26-27 Soi Chidlom
Ploenchit Road, Pathumwan, Bangkok 10330 Thailand
General Line: +66 2250 0569